Easy party planning
No costs, no registration.
You want to have a party with your friends and make sure that everything is provided?
Then BBQoo hits the spot!
Simply create a party and here we go:
Who is coming? What is needed? Who brings what?
With BBQoo you have all this in mind.
Planning parties with BBQoo is a pushover: Enter the location and date of the party, invite guests and you can already start
planning together
.
Still not convinced? Then test it!
Screenshot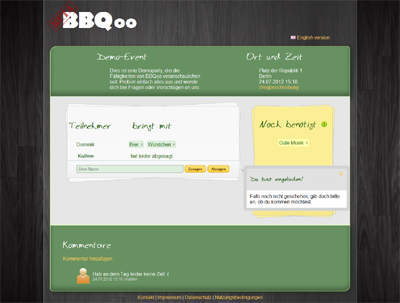 Features
Organize fast and easily parties:

3 clicks and your organisation platform is ready to go.
3 clicks and your guests have accepted or refused.

No registration needed.
Easy coordination of responsibilities.
Smart Drag&Drop solution.
Comfortable planning due to integrated weather forecast.
Automatic directions to the location included.